* Products recommended in the post contain affiliate links. If you purchase something through our posts, we may receive a commission at no extra charge to you. See our full disclosures here.
Looking for the best RV battery to keep your RV running for the next road trips to come? Then read on to find out more on our top five picks on the best RV batteries you can invest in to keep the power source of your RV alive for years of camping trips to come!
SECOND pick
Optima Batteries 8016-103
---
5 Best RV Deep Cycle Battery Reviews
Based on our reviews, testing and overall customer reputation, here are our top five picks on the best RV battery:
1. Vmaxtanks Vmaxslr125 AGM Deep Cycle
(Best choice)


Via: Amazon.com
You Save: $50.06
Last update on 2023-03-02 at 23:18 PST - Details
The VMAX Solar is a deep cycle battery made fit for solar panels and smart chargers.
It's environment friendly as it has recombination capabilities- Meaning, no more hazardous gas or fumes coming up from the best deep cycle battery for RV as you install or use it.
I love how it arrives with a full charge, so I can immediately set it up and begin using it.The body is made out of military grade plates and has hex screw in terminals included for better strength and stability.
It's made to last for long drives. It's known to last for almost a decade in float mode!Take note that these are deep cycle batteries, but don't deep cycle it a lot and use up to 25% of its battery before charging it back to full again.
Not only is this a great battery for RVs, but it's also great for those who have solar panels. If you happen to use solar panels for your RV, then this is definitely the choice for you.
+ One of the best- Better power as compared to other solar batteries
+ Great packaging with excellent customer service
- Heavy body
- Expensive price
2. Optima Batteries 8016-103 D34M
(Second pick)
Optima OPT8016-103 Batteries D34M BlueTop Starting and Deep Cycle Marine Battery
12-Volt, 750 Cold Cranking Amps, Size: 10 inches x 6 7/8 inches x 7 13/16 inches tall, Weight: 43.5 pounds, Dual SAE & 5/16 inches Stainless Steel Stud Posts. 55 Ah C20 capacity
Optimal starting power even in bad weather
Mountable in virtually any position. Works well as a boat battery or RV battery
Fifteen times more resistant to vibration for durability
Reserve capacity of 120 minutes for constant performance
Last update on 2023-03-02 at 23:18 PST - Details
Optima Batteries are well-designed to provide better power as compared to 'traditionally' designed batteries.
I love the fact that its body is strong enough to withstand any weather. I'm able to start my RV up no matter how bad the weather is, so it saves me the time and effort going out just to try manually fixing it under the rain!
It has vibration resistance, so it's protected against any high impact shock for better and longer durability. Upon installing, I found out it's easy to mount it into any battery box, no matter the position.
As for its battery, it has a two hour reserve capacity at high power, so you are able to use it for a fair amount of time with your RV engine and small appliances.
+ Longer-lasting battery- Lasts for half away and still has a good charge capacity left
+ No stalls or blackouts no matter how long the use
+ Powerful
- A bit on the expensive side
3. Universal Power Group 85980/D5722
Sealed Lead Acid Battery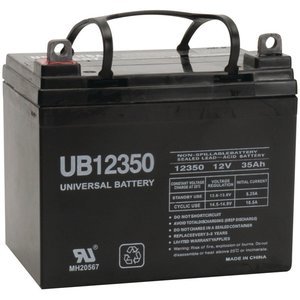 Via: Amazon.com
You Save: $9.00
Last update on 2023-03-02 at 23:18 PST - Details
The Universal Power Group Battery covers 35 amp hours for your RV, which is enough for starting the engine AND for powering up small appliances.
It's battery is simply designed yet made to hold a lot of power for long periods of time.While it isn't a deep cycle battery, it can handle any type of machinery or vehicle, so you are assured an RV battery made to last for years to come.
I love how it has the sealed construction and small size to easily install into my RV. It doesn't take long for me to fit it in. It even comes with a handle so it's easy to bring it out for transport and storage.
At its price, I'll definitely say it's worth the investment. It's affordable with a good battery capacity and light body anyone can take advantage of.
+ Reasonable price
+ Does not use liquid or gel for better safety
+ Will immediately start the RV
+ Constant flow of power
- Low power built for smaller vehicles or machinery- You will need to purchase two or three of these batteries to power up your RV
​

4. Odyssey PC680 Battery
(Best value)
ODYSSEY PC680 Battery, red top
170 CCA; Better warranty: Limited 2-year full replacement warranty, not pro rata; Longer service life: With 3-10 years of service life, ODYSSEY batteries save consumers time, money, and aggravation
Longer cycle life: 70 percentage longer cycle life compared to conventional deep cycle batteries, up to 400 cycles at 80 percentage depth of discharge- high stable voltage for longer periods of time
Faster recharge: The highest recharge efficiency of any sealed lead battery on the market, capable of 100 percentage recharge in 4 - 6 hours; Mounting flexibility: Non-spillable design
Vibration resistance- design protects against high impact shock and mechanical vibration; Extreme temperature tolerant
This item is not for sale in Catalina Island
Last update on 2023-03-02 at 23:18 PST - Details
The Odyssey PC680 has that hot red color that made me immediately want to check its power! Once I got it up and running on my RV, it started up smoothly and offered long power to my RV and appliances.
It promises a longer cycle life compared to any other DEEP CYCLE batteries. It can go for up to 400 cycles until it reaches 20%!
I tried to charge it, and I was surprised as to how quick the battery comes back up to 100%. It only takes up to six hours.
The body itself is flexible when mounting. It has a non-spillable design to avoid leaks and accidents, as well as a vibration resistance that will protect the body no matter how high the impact shock will be.
Plus, it can handle extreme temperatures.
+ 40% more reserve capacity than other batteries
+ 15% more plate surface area
+ Made of lead plates for recycling
+ Long life span
+ No need for terminal adapters
+ Dry cell for easy maintenance
- Not for sale in Catalina Island
- Some sizing issues for certain RVs and vehicles
5. Battery Tender BTL35A480C Lithium Iron Phosphate Battery
Battery Tender BTL35A480C Lithium Iron Phosphate Battery
Replaces Yuasa Battery: YIX30L-BS
Up to 80 percent lighter and up to 5X the life of a lead acid battery
Foam spacers included to fit multiple size battery boxes
Quad terminal configuration and the ability to be mounted in any direction makes installation a snap; Case Dimensions: 6.49 inch (165 millimeter) length x 3.38 inch (86 millimeter) width x 5.11 inch (130 millimeter) height; Weight: 3.75 pounds
Specifications: Voltage: 12 Volt; Cold Cranking Amps: 480; Lead-Acid Replacement Range: 26-35(Ah); Operating temperature: 0 - 140 Degree (Fahrenheit); Max Charge Rate: 10 Ampere
Last update on 2023-03-02 at 23:18 PST - Details
The Battery Tender BTL35A480C is a 12V battery with a lightweight body. I was surprised that with its light body, it still packs a punch!
It has more than five times the power and life of a lead acid battery, but WITHOUT the acid or any type of liquid needed. The manual said it could go for up to thousands of deep cycles until it reaches 20%.
I haven't tested it out for that long, but after a lot of trips, it's still holding up well.
Placing it in your RV is easy, as it's smaller than the usual battery. It also has foam spacers so it can fit almost any battery box with ease. It doesn't use ANY liquid or gel, so no safety hazards to worry about as well.
I love how it comes with a lot of cranking power and runs on my RV without any chance of its stalling.
+ Very light body
+ No liquid or gel used
+ Longer battery life
+ Fits well on multiple battery boxes
+ Quick cranks
+ Small body making it hard to fit in big battery boxes
Benefits Of An RV Battery
Owning an RV has a lot of benefits, but what about the RV batteries? While it may just be a mandatory piece of equipment to your car, you will need to make sure you have the best! What does the best RV battery have against the other "typical" batteries?
Here are some benefits you can reap with the right RV battery:
Better Performance
Your RV will be able to perform better with the right battery. You'll avoid any power failure when on the road, as a best camper battery will constantly start up smoothly. Without it, you won't be able to properly start your RV, much less even use it!
The best travel trailer battery requires more power than any other type of vehicle, as you are using appliances such as kitchen products or air-conditioning to keep your RV running well. Without the best deep cycle batteries for RV, you won't be able to power anything up!
Durability
You are assured strength and durability with the right RV battery, with it lasting for years of usage and without the need to constantly replace it.
The research and money you put into it make it a great investment, so you are assured a battery and RV that won't stall anytime you travel.
Ease Of Maintenance
RV batteries are easy to replace, only requiring a bit of knowledge and set of instructions. While you can have your mechanic replace it, you can do it yourself. The best RV battery won't need a lot of maintenance (maintenance free) and only a few checkups every now and then.
How To Choose The Best RV Battery
Purchasing an RV battery doesn't require any knowledge on rocket science, but you will need to do your research! Here are some factors you should consider when planning to purchase an RV battery:
Usage
What will you use the battery for? There is a chassis battery that will help start the RV. There are also other types of batteries that offer more power for your air conditioner or other small appliances.
You can find recommendations from trusted mechanics, or you can check the manual that comes with the RV. Here are the basic batteries to start off with:
Wet Cell Battery
Wet Cell batteries are one of the most common types of batteries. This might be the type your RV needs, if you're not familiar with choosing RV batteries.
Valve Regulated Lead Acid Battery
These are more reliable than wet cell batteries as they prevent fluid loss and don't require ventilation. They are also easy to maintain. There is a gel cell battery or Absorbed Gas Mat (AGM) battery, with the latter producing higher amperes.
Reserve Capacity
It's recommended to find a battery with the maximum reserve capacity. .This will help give off the best and ultimate power for your RV to last a longer period of time.
Amp-Hour Ratings
This rating measures the amount of amps the battery would produce in a certain amount of time. The higher the rating, the more power you can use.
Tips on Using an RV Battery
When using your RV battery, there are ways on how you can prolong its lifespan and let it perform better. Simply follow these steps:
How to charges and maintains
- Don't let your RV batteries go below 50% charge. If they do, recharge them immediately and never let it go lower than 20%. If not, they may damage and won't be able to charge fully again.
- When charging your batteries, do NOT overcharge it. You will know if you are overcharging it if it is too warm. Overcharging can cause your batteries life span to reduce, or even preventing it from functioning a charge. If you plan on storing your batteries, plug it to an adequate charger with a storage setting to avoid leaving it overcharging.
- Monitor the voltage your battery gives off to avoid your RV from damage. You can do this through using a digital voltmeter, or if your battery has a monitor on its body.
- It's best to do daily checkups on your batteries for any signs of damage or leaks. Have it checked by a professional once a week to avoid any trouble when starting your RV or using any electrical appliances.
- You can help lower down chances of overheating your battery through rinsing it with water. Check the water levels and then add distilled water if needed. Only use distilled water when adding fluid.
- And also, take note that wet cell or VRLA batteries don't require you to add any water.
- Be careful when handling your battery! Use safety gloves and eye protection to avoid contact with fluids. The fluids may end up being corrosive and damaging your skin.
Conclusion
When it comes to traveling or camping, you'll want to invest in an RV. An RV will have you take the most comfortable and stylish rides around your country, where you and your whole family can take road trips without being cramped or squished!
But just like owning any car, you'll need to make sure your RV is in tiptop shape. This will involve getting the quality parts for your travel trailer to ensure a good quality drive.
Of the five top RV batteries we've chosen, we believe that the best one would be the Vmaxtanks Vmaxslr125 AGM. With its powerful, it is the perfect replacement for your old RV's battery.
It's easy to install and will have you enjoy your RV without any worry or hassle. Hopefully, this article on the top five best RV battery reviews helped you become more knowledgeable on what you need for your RV's battery.
So what are you waiting for?
If you're planning to take a trip with your RV, check and replace its batteries for a trip to remember!We hope you enjoyed the article. If you have any more questions, then do comment down below. We'd love to hear what you have to think!